NEDAERO is distributor of Collins Aerospace avionics equipment.

We offer parts and repairs on various avionics components.

PARTS
We offer a number of Collins Aerospace piece-parts – while stock lasts!:
042354-2Connector, Flex (J7)044937-1Switch, Rotary, Digital047009-3Variable Resistor048931-1Vibration Mount048956-12Tape, Aluminum Adhesive054016-1Transducer Assembly070001-5Liquid, Crystal Display10010-1007-0106Housing, Assy10013-1006-02Coil & Cartridge Assy10014-1006-01Pointer Assy10031-1102-01Dial, Scale10037-0403-0157Circuit Card Assy10037-0406-01DRI BD Assy10037-1002-03Enclosure Assy10037-1006-0102Endbell, AY10037-1006-0103Endbell10037-1106-01Diffuser, Light10037-1300-0750Housing, Assy10087-1122-01-1Microcircuit, Digital Program30005-1122-01Microcircuit30048-0406-0001Connector J230048-1410-03Prom. Progr30144-0401-03-1Circuit Card Assembly A1
| | |
| --- | --- |
| Partnumber | Description |
| 042354-1 | Connector, Flex (J6) |
| 042354-4 | Connector, Flex (J11) |
Are you interested in a part?
Please send an e-mail to our dedicated customer support office and they will get in touch with you.
We also have a number of Servo-parts for sale:

Please contact us at parts at nedaero dot com for a quotation or get information about our complete product range.
---
REPAIRS
NEDAERO is Authorized Repair Station for Collins Aerospace components.
We have an in-house workshop where our certified staff takes care of your repairs.
Find our complete repair-list in our Capability List. We offer repair capabilities on many Collins Aerospace-components, including – but not limited to: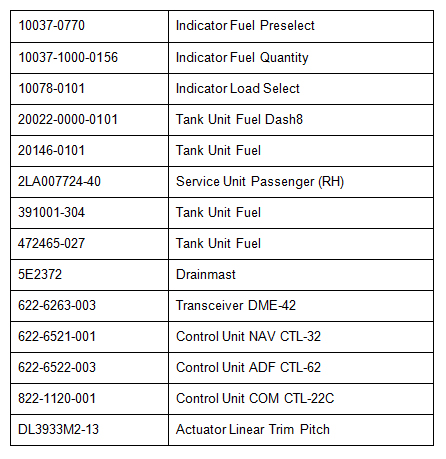 Please contact us at repair at nedaero dot com for a quotation or get information about our repair capabilities.