NEDAERO is distributor of pitot-static systems of Cobra Systems.
We offer Pitot-Static Adapters, Test Equipment and associated parts and services for Commercial, Corporate and Military Aircraft and Helicopters.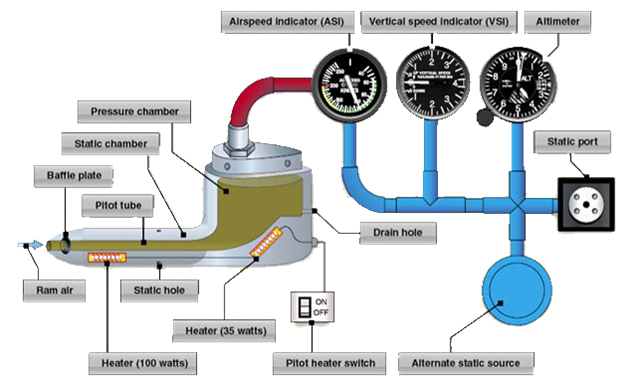 This system of pressure-sensitive instruments is used in aviation to determine an aircraft's airspeed, altitude, and altitude trend. A pitot-static system generally consists of a pitot tube, a static port, internal connections to the aircraft's internal flight data computer.
During certain maintenance procedures, the integrity of the pitot-static systems will need to be compromised in order to install new equipment or preform a repair.
Any aircraft that wishes to fly in weather conditions below visual standards will need the accuracy of all flight instrumentation verified every 2 calendar years.
A few examples of the comprehensive productline:

Test sets

The AD450E-1 pitot-static test set is a complete tester designed to perform leak checks, and instrument calibration for all aircraft. Vacuum and pressure are provided by an internal electric pump. This test set also incorporates a set of hand pumps which allows complete accurate testing without an external power supply.


Meets all FAR's vacuum pressure and test requirements


50,000ft Altimeter, 650Kt Airspeed, VSI


Light weight design, 28lbs


Manual or Electric operation


Precision slow release metering valves that cannot be over tightened.
The Barfield 1811 series testers are portable, self-contained units, used for testing and calibrating aircraft pitot-static systems. Refurbished 1811's are a great choice for repair shops with a limited budget or as a backup test set. The tester uses three analog instruments (Altimeter, Vertical Speed, and Airspeed) with the appropriate correction cards to perform aircraft leak tests or instrument calibrations. All 1811 series testers come with hand pumps for manual operation. Barfield 1811G, H, & HA units also include an internal electric pump to generate the necessary pressure and vacuum for on-board testing and calibration.


Completely re-furbished with NEW calibration.


Variety of Airspeed/VSI/Altimeter combinations available


Manual or Electric operation.
The DPS500/TS-4463/p Air Data Test Set is a self-contained, transportable, fully automated, user programmable Pitot-Static tester housed in a military styled enclosure. The unit includes a test set controller, a Pressure/Vacuum pump, and a remote hand-terminal permitting convenient operation from the cockpit.
Control Consoles
RVSM Universal Control Console Kit
P/N: CCU-100-1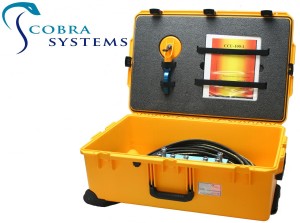 The CCU-100-1 Universal Control Console Kit. A user-friendly, universal pitot and static system RVSM testing console.


Multiple hose assemblies to fit almost any airframe


Universal Control Console fitted with stainless steel quick disconnects


Hose Grip Assembly for securing excess hose to the airframe without tape


Equipment is enclosed in a waterproof polypropylene case and custom foam dunnage


Control Console also sold separately under P/N: CCU-100CC.
Control Console
P/N: CCU-100CC, P/N: CC-737C, P/N: CC737-600, P/N: CC757, P/N: CC-GV-P, P/N: CC-GV-S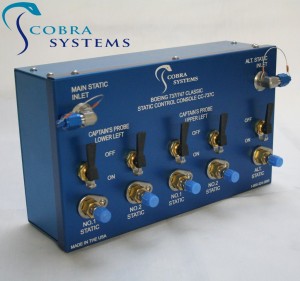 Cobra Systems line of Control Consoles for the Boeing 737 C, 737 NG, 747, 757, 767, & 777 are available separately, and also as part of our full pitot-static accessory kits. On/off toggle switches allow you to quickly diagnose any leaks on the aircraft. We also carry Gulfstream V specific pitot & static consoles.
Angle of Attack covers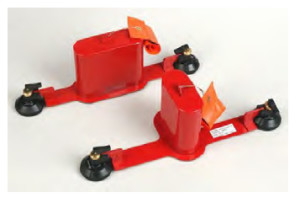 Cobra Systems convenient quick on/off ANGLE OF ATTACK (AOA) vane protective covers. It does not attach directly to the vane or put any pressure on it, but provides comprehensive protection from fluids and physical damage. These covers are made of high quality aircraft grade aluminum alloy and are coated with a Skydrol resistant bright red coating.
Ice detector covers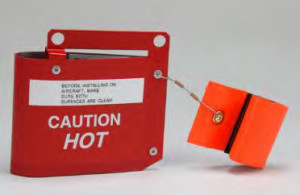 Cobra System's Ice Detector protective cover prevents potential damage to ice detector sensor during maintenance and servicing and protects maintenance personnel from heated probes. These covers are made of high quality aircraft grade aluminum alloy, flame resistant foam and protective vinyl to prevent metal to metal contact with the aircraft.
NOMEX® COVERS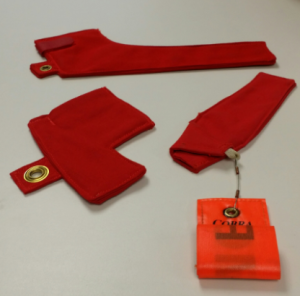 Cobra System's line of NOMEX® covers are both flame resistant and water repellant. Our Total Air Temperature cover is a universal fit for almost any TAT probe & our Dash-8 400 & Sikorsky S76® pitot probe covers are specifically designed to provide a secure fit. The cover protects the probe against outside elements and physical damage.
There is a broad product range for fixed wing and rotable wing both civil and military.
Please contact us at parts at nedaero dot com for a quotation or get detailed information.
NEDAERO represents an extensive number of suppliers.
Please see our Product Linecard: