NEDAERO is distributor of Tech-Tool, manufacturer of helicopter replacement windows.
Replace crazed, pitted, cracked or broken windows on your helicopter with replacement windows from Tech-Tool Plastics.
We offer a full line of replacement windows for Airbus, Bell, MDH, Robinson and Schweizer.

Our full line of replacement windows for Airbus, Bell, MDH, Robinson and Schweizer:
Airbus Helicopters
Airbus Alouette II/ Lama
Airbus AS332C, C1, L, L1
Airbus AS350, 355, H125
Airbus AS365N
Airbus BK117 C-2 (EC145)
Airbus BK117A1, A3, A4, B1, B2, C1
Airbus BO105A, C, LS, A-1, LS, A-3
Airbus EC120B
Airbus EC120B, EC130B4
Airbus EC130B4
Airbus EC135P1, P2, P2+, T1, T2, T2+
Bell Helicopters
Bell 204, 205, 212, 214, 412, UH1
Bell 206A, B, L, L1, L3, L4
Bell 206L, L1, L3, L4
Bell 407
Bell OH58A, A+
Bell OH58A, A+, C
Bell OH58C
MD Helicopters
MD Helicopters 500C, D
MD Helicopters 500C, D, E, F, FF
MD Helicopters 500C, D, E, F, FF, 500N
MD Helicopters 500C, D, E, F, FF, OH6
MD Helicopters 500E, F, FF, N
MD Helicopters 600N
MD Helicopters OH6
Robinson Helicopters
Robinson R22
Robinson R44
Schweizer Helicopters
Schweizer 269, 300, TH55A
Examples of window options: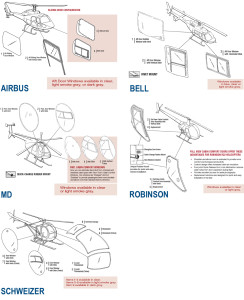 The product line comprises:

Standard windows


Windows with pop-out air vents


Windows with vertical or horizontal slides (according to TTP no.)


Windows in standard clear or tinted (Blue-Dark Blue, Dark Green, Smoke-Light-Dark-Gray or Bronze tinted acrylic)


Cabin comfort windows


Windows for camera photography


Observation windows


Windows bulged


Windows logging bubbles


Quick change (rubber mounted).
Cabin Comfort Windows
Wedge style windows for the Bell, Airbus (Eurocopter), MD Helicopters and Robinson. Increased pilot and passenger shoulder and elbow room throughout. Their clear-view design and non-opaque armrests allow for improved visibility and a custom appearance. Flight tests validate that there are no flight speed restrictions associated with Cabin Comfort windows.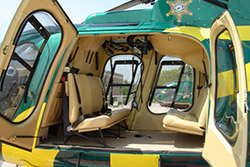 There are no obstructions from an opaque arm rest to impede or obscure vision. Other advantages include:


Full view vision through the entire door


Custom window contour extends shoulder and elbow room


Increase cabin comfort for pilots and passengers


Vertical slide provides camera access for photography


Enhances all helicopter operations.
Special Application Camera Windows
Reverse, horizontal and vertical slide camera windows allow ready access for photography and observation applications. They are ideal for a variety of missions ranging from airborne law enforcement and news gathering to air medical services and feature a large opening for easy maneuverability.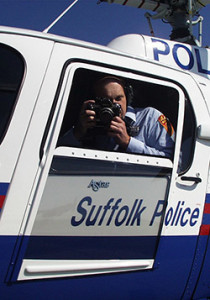 They are made with extra stiffeners to prolong the life of the window and have a unique locking mechanism to secure the slide in place.


Lightweight construction has negligible weight change


Additional stiffeners reinforce window and eliminate vibration


Excellent for law enforcement observation and news gathering


Enhances sight-seeing and photography.
Rubber-mounted Windows

These windows mount with a rubber seal and can be used as a replacement for traditional rivet-in installation. These windows save installation time by eliminating rivets and repainting.
Tech-Tool windows are FAA, EASA, CAA, LBA, and Transport Canada approved.
Please contact us at parts at nedaero dot com for a quotation or get information about the complete product range.