Fiber Optic Gyroscope (FOG)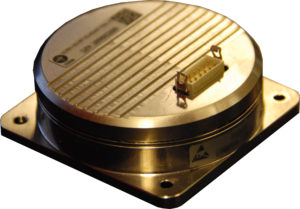 Maintenance-free  ITAR-free
A Fiber Optic Gyroscope can be used in aircraft and helicopters, but has also other application fields like ground vehicles, robots, optics or RF antenna stabilization and training simulator stabilization and high dynamical sensor platforms or other industrial purposes.
The base consists of a spool on which an ultra-thin glass fiber is winded in two directions. By measuring the phase-difference of two light beams, a Fiber Optic Gyro (FOG) calculates the speed in degrees per second with which it provides the turn rate of one rotational axis. Whenever FOGs are placed along the x-, y-, and z-axes, angular rates are measured in three dimensions. Three FOG's can be combined with three acceleration meters to end up as an Inertial Measurement Unit (IMU). An IMU shows the acceleration and angular rate in three dimensions. The unit can be used for attitude control and navigation of missiles, drones, etc. Once you connect the IMU to a computer, you can determine the orientation, positioning and speed of the object. This system is called an Inertial Navigation System (INS). This system operates autonomous from a GPS system.
The FOG contains no moving parts and has obviously hardly any signs of wear. It has a high reliability and has a forceful, robust design. The modular design enables tuning of specifications to customer specific applications, e.g. dynamic range, bandwidth, bias-stability, noise and physical/environmental specifications. Conventional mechanic gyroscopes will be replaced more and more by this reliable and maintenance-free Fiber Optic version.
NEDAERO introduces: the Fiber Optic Rate Sensor FOG
The NEDAERO Fiber Optic Rate Sensor FOG is a small palm of the hand-sized rate sensor. It provides turn rate for one rotational axis. The modular design allows a cost-effective realization of single or multiple sensing axis units.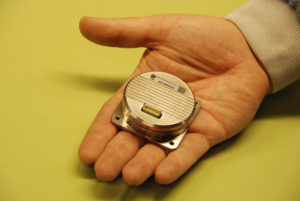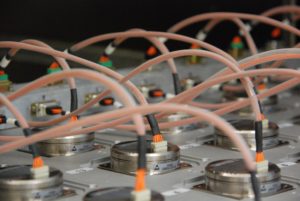 Early 2018 NEDAERO has validated its Fiber Optic Gyro sensor for the aerospace industry. The FOG60 model has been successfully certified for a commercial airline program, and is now in series production. It's a 100% European product whereby all materials are purchased from European suppliers.
The sensor is suitable for flight stabilization and attitude control of aircraft, helicopters, drones and missiles. Further application comprises Inertial Measurement Units and Navigation Systems. Other application examples comprise azimuth measurement of land vehicles, optics or antenna stabilization as well as high dynamical sensor platforms or other industrial purposes.
The FOGs produced by NEDAERO are ITAR-free.
KEY FEATURES AND BENEFITS

Fiber optic technology without moving parts
High reliability
Forceful design
Analogue voltage output and Build-In-Test functionality
Robust metal housing
Temperature output for compensation.


INERTIAL MEASUREMENT UNIT (FUTURE DEVELOPMENT)
The IMU 360 is a three-axis unit which supplies angular rate and acceleration information.
The unit can be used for attitude control and navigation of missiles, drones etc.

Downloads:
Interested? Please contact our dedicated FOG-team: fog at nedaero dot com or call us at tel. +31 316 592 100.