NEDAERO specializes in the manufacturing, repair and distribution of components for aircraft and helicopters.
At our Zevenaar facility, NEDAERO has fully equipped workshops with high-tech production – and test-equipment ensuring that all components are delivered in accordance with the highest standards and expectations within Aerospace Industry.
From our Alphen aan den Rijn facility we deliver helicopter and aircraft parts directly from our distribution stock and exchange pool. The items on our capability list range from transceivers to life vests, from actuators to headsets and from oil & greases to a wide range of filters. In addition to this logistic support we also offer broad expertise to military government organizations and private military MRO's.
With over 40 years of manufacturing and MRO experience, NEDAERO has the expertise from which it is able to provide its customers with proactive advise and technical support helping to ensure the most cost effective support solutions are provided to its civil and military customers worldwide.
We are fully certified: Part 145, AS9100, AS9110, AS9120, EASA/FAA/TCCA, ISO9001:2015
To best serve the customer, NEDAERO has a dedicated 24/7-customer support team available in case of Aircraft On Ground situations.
There are many benefits why you would choose NEDAERO to be your partner:
Certified repair station
Competitive turnaround times
Operator (support) experience
Dedicated 24/7 hr customer support at your disposal
Obsolescence recovery
In-service flexibility Aircraft on Ground
Competitive economics for small and medium production runs
Our headquarters and workshop is strategically located in Zevenaar
(1 hour from Amsterdam Schiphol and Dusseldorf airport) and our warehouse, located in Alphen aan den Rijn is only 20 min. distance from Schiphol airport.
---
NEDAERO at a glance
Please find herewith our company brochure: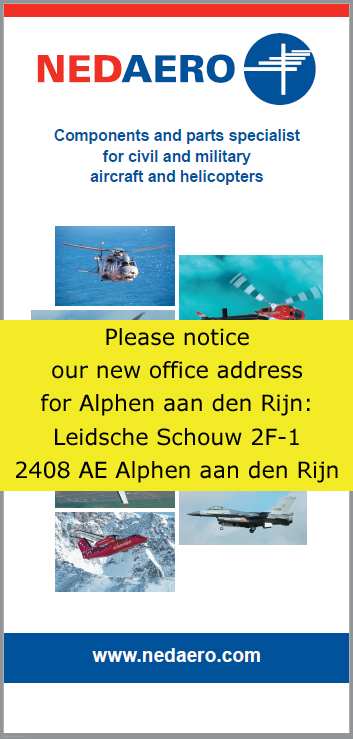 Photo's used in this brochure are gratefully acknowledged. We would like to express our gratitude to:
Anthony Pecchi   –   DanishAviationPhoto   –   Jan Gerrits   –   Jérome Deulin   –   Laura Kleinendorst   –   Mads Pihl VisitGreenland   –   Ned Dawson
---
NEDAERO is a member of:

The NAG is the trade association for national and international organisations established in the Netherlands and active in Aerospace & Airport Development. The NAG has more than 100 members who together represent 95% of the Dutch aviation industry's revenue. The NAG's mission is to continuously optimise the Dutch aviation industry's ability to compete internationally.

De Stichting Nederlandse Industrie voor Defensie en Veiligheid (NIDV) is dé link tussen bedrijven, kennisinstituten en de overheid. Opgericht in 1984 door de ministeries van Economische Zaken en Klimaat, Buitenlandse Zaken en Defensie en de industrie, zorgt de NIDV voor het duurzaam positioneren van de Nederlandse Defensie- en Veiligheidsector in binnen- en buitenland. De NIDV treedt op als informatieverstrekker, belangenbehartiger en dienstverlener voor de Nederlandse Gouden Driehoek voor Defensie en Veiligheid.
The Netherlands Industry for Defense and Security Foundation (NIDV) is the link between companies, knowledge institutes and the government. Founded in 1984 by the Ministries of Economic Affairs and Climate, Foreign Affairs and Defense and industry, the NIDV ensures the sustainable positioning of the Dutch Defense and Security sector at home and abroad. The NIDV acts as an information provider, advocate and service provider for the Dutch Golden Triangle for Defense and Security.

The ERA (European Regions Airline Association) is a non-profit trade association representing the European aviation industry, founded in 1980.
Its strength and influence spans more than three decades, since its inception ERA has developed and grown in size and reputation to represent 50 airlines and 144 service providers including airframe and engine manufacturers, airports, suppliers and service providers from all over Europe.
ERA works on behalf of its members to represent their interests before Europe's major regulatory bodies. The association also bring members together to exchange information and learn from each other through different events and forums for members to meet. A major role for ERA is to raise the profile and importance of our members to the economic and social development of Europe.
---