Successful development of High Performance FOG80N
September 2020 – Our FOG-team is proud to announce that development of a High Performance Fiber Optic Gyro has been successfully completed. A new design has led to FOG70 and FOG80N, whereby FOG80N has a Stability @ Room Temperature of ≤ 0.2 °/hr. With this accuracy the FOG80N is suitable for high end stabilization and navigation solutions, which is often found in military applications. Another key feature is that the design is ITAR free.
At NEDAERO we are continuously striving to improve our products and innovative solutions.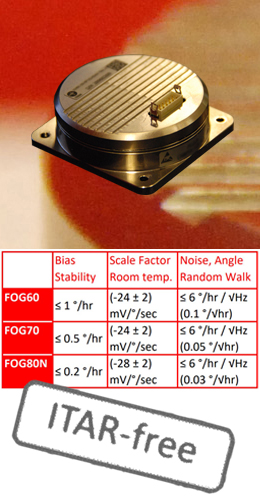 NEDAERO now has a family of 3 FOGs with all unique specifications.
The (absolute) Scale-factor, Angle Random Walk and Bias Stability all have been improved.
All models are available and ready for delivery from stock.
We kindly refer to our NEDAERO FOG page for a complete overview inclusive datasheets of all 3 FOGs.
Please contact our dedicated FOG-team for more info: fog@nedaero.com or call us at tel. +31 316 592 100.