NEDAERO is distributor of SWITLIK – manufacturer of the highest quality sewn and heat sealed inflatable safety and survival products for the civil and military aviation industry: life saving equipment.
Switlik is proud to announce the availability of the newly British Civil Aviation Authority-approved, CAP1034 compliant life vest, anti-exposure dry suit and compressed air emergency breathing system.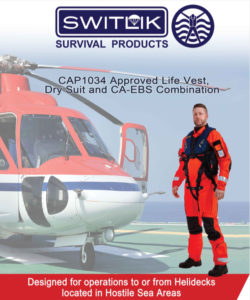 Together, the ensemble is approved under ETSO 2C502 and CAP1034 for use in helicopter operations to and from helidecks located in hostile sea areas.
Please read more information on our Switlik dealer page.