We are NEDAERO
Newscentre
NEDAERO Product news February 2018
In Newscentre, March 1st 2018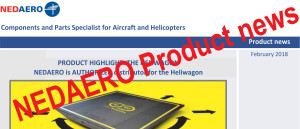 We launched our first NEDAERO Product Newsletter. Each month we will issue a Product Newsletter and send it to specific target customers.
Didn't you receive our Product Newsletter but are interested in future issues? Please let us know at info@nedaero.com and we will add you to our distribution list.
This first issue is about the Heliwagon, you can find more detailed information about this remote controlled Helicopter platform on our website.